Stay tuned for the next Vision Card workshop.
REGISTER
Email Laurie and she'll send you a
PayPal invoice you can pay with a credit or debit card. Or you can mail a check.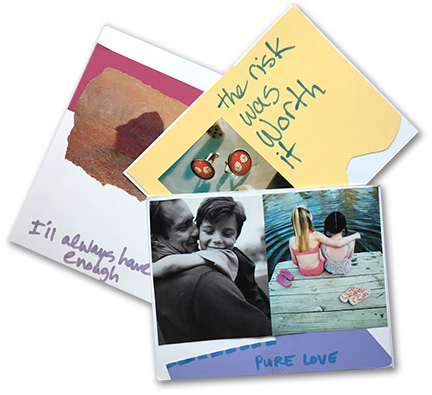 CREATE
a deck

o

f powerful personal images — Vision Cards — that embody your goals, values, hopes and dreams. During a half-day session you'll develop a vision of the biggest life possible for you and start creating it right away. You'll also make cards for your loved ones.
ENCOURAGED by coach Laurie Phillips, you'll use beautiful illustrations and photographic images to make a deck of cards that hold the bigness of what your heart really wants. We've found that using images makes it much easier to express what you want since they use the power of what's known as the right brain.
Laurie has created a new kind of Vision Card workshop that gives your vision more power and provides an ongoing structure for HUGE transformation.

If you've taken the workshop before, you may remember the exercise where you trade Vision Cards with someone else in the workshop and do the "It's happening right now" meditation for them about their vision coming true. People always report that it's far easier to imagine another person's vision becoming real than it is their own.

The effect on the person sending a positive intention (or vision, prayer, visualization, meditation) for someone else is powerful for the receiver, but it's even more powerful for the sender!

The Power of 8 by Lynne McTaggart is a process that she's tested over many years. Her background is science journalism and her books contain fascinating details for experiments, using scientific equipment and anecdotal reports. You can watch a short video of Lynne Mctaggart explaining the process and the amazing healings of all kinds that routinely happen: https://www.youtube.com/watch?v=6FYGRztyR24

Senders report feeling a sense of oneness, connection, and the bliss of pure being. As well as what they want in their own lives coming true. Sounds pretty good!


How it Works
A Vision Card workshop will be held on Saturday, Feb. 15 from 9-noon where you make meaningful, beautiful cards of what you'd like to change in your own life, and a few cards for loved ones who could use healing of any kind (family members, friends, neighbors near and far).

Over the following 3 months, every week you'll text or email a photo of one of your Vision Cards along with a short description of what you'd like the group to intend. Everyone will do a 2-minute meditation after you send it. Hopefully we'll find a time that works for everyone to do the "It's happening right now" meditation simultaneously.

You'll keep a journal of any changes you notice in your life and the lives of the loved ones you made cards for. We'll meet at the end of the 3 month period to share what we noticed and have a party.

Laurie will participate in this workshop because she's so excited about it!

Please contact Laurie with any questions. To register, email her and you'll receive a PayPal invoice. You can pay it with a credit/debit card, or you can mail a check. If you need a payment plan, let Laurie know.

This workshop will be a big commitment to the other 6 people in the group. Think carefully before you sign up. Also be honest with yourself about whether you're ready for a big transformation in your life. If you are, reply to this email. There are 5 spots open. Please feel free to forward this to family, friends or colleagues.



________________________________________
At the
Vision Card workshop
you will...
• Uncover what's most important to you
• Get permission to say 'no' to the things that are dragging you down and 'yes' to where your higher self is urging you to go
• Be curious about alternative ways you could fulfill the longings you've had perhaps since childhood
• Imagine and name your next steps to get there
• Walk away with a daily practice that keeps you inspired
• Get accountability for 3 months to create your own vision — and help others create theirs
• Receive help from other group members through them doing the 2-minute "It's happening right now" meditation
for you and the loved ones you make Vision Cards for
• Open up to a sense of oneness and connection

Come vision with us!
Email Laurie
to register — she'll send you a PayPal invoice you can pay with a credit or debit card. Or you can mail a check.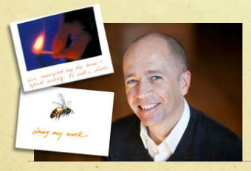 Lee's Vision Card Story

"Vision cards aren't magic, but they feel like it. For me, giving my vision physical form helped align my actions with my intentions. I was able to see my desired outcome — to write a book-length collection of poetry — as a series of small actions.
Instead of wishing for change, I started creating it in small ways that gained momentum over time: I established and maintained better writing habits, generated pages and pages of new material, won a fellowship, found studio space, got a few poems published, and have now completed a fifth draft of my manuscript. It isn't a published book yet, but I'm much closer to that possibility. In the meantime, I've architected my writing into my life."
Lee Colin Thomas is a poet, content strategist and information designer who lives in Minneapolis.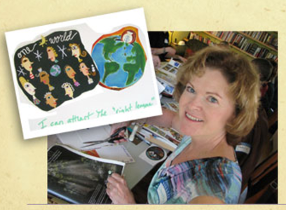 Dorothy's Vision Card Story

"When I did the Vision Card workshop with Mary and Laurie, I created a card about my coaching and leadership programs taking place in exceptional locations. What's happened since then is that I did indeed lead a session with executives at a fly-in wilderness camp in the Chilcotin Mountains in British Columbia. It was everything I envisioned and more. This experience also inspired me to run coaching programs at my cottage at Duck's Bay in northern Ontario, my favorite place in the world. Before using Vision Cards the possibility of leading retreats there hadn't occurred to me!"

Dorothy Greenaway
www.dorothygreenaway.com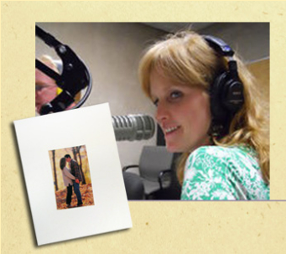 Karol's Vision Card Story

"For one of my cards I chose a picture of a man and a woman facing each other holding hands in the woods. I wanted to meet a great guy and have intimacy like this picture. At that time, I wasn't feeling very good about myself so the whole notion of meeting this guy didn't even seem possible.

About three weeks later, after meditating on my Vision Card every morning, I went up north for a girl's get-a-way. The first night there, David showed up as a guest of my friend's mom. We shared the same passions for acting and creativity; three nights of fireside chats started a wonderful relationship. We ended up getting married and now have a beautiful baby daughter.

Karol
© 2020 The Vision Cards workshop was co-created with Mary Cayan