NEW! Join us online for $149
A morning of profoundly playful exploration
Vision Card Workshop

Saturday, April 9, 2022
from 9:00 am - 12:30 pm Central Time
28 Benhill Rd., St. Paul MN 55105
Before 4/2 early bird price $199
After 4/2 regular price $249
Email Laurie and she'll send you a
PayPal invoice you can pay with a credit or debit card.
Let her know if you're joining the online version of the workshop.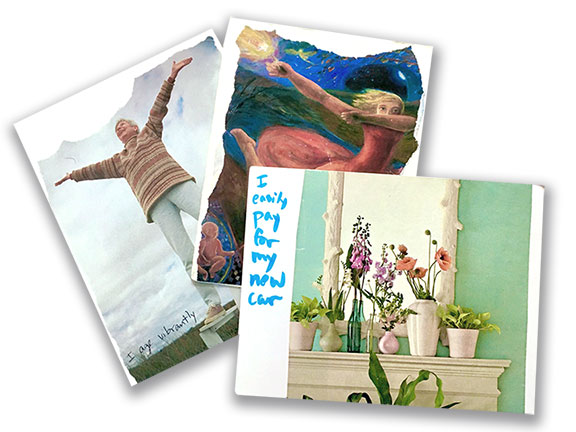 CREATE
a deck

o

f powerful personal images — Vision Cards — that embody your goals, values, hopes and dreams. During a half-day session you'll develop a vision of the biggest life possible for you and start creating it right away.
ENCOURAGED by coach Laurie Phillips, you'll use beautiful illustrations and photographic images to make a deck of cards that hold the bigness of what your heart really wants. We've found that using images makes it much easier to express what you want. In this whole-brain activity, images help us use the power of what's known as the right brain.
Vision Cards are like post-it notes from your soul.


________________________________________
At the
Vision Card workshop
you will...
• Uncover what's most important to you
• Get permission to say 'no' to the things that are dragging you down and 'yes' to where your higher self is urging you to go
• Be curious about alternative ways you could fulfill the longings you've had perhaps since childhood
• Imagine and name your next steps to get there
• Walk away with a daily practice that keeps you inspired
• Open up to a sense of oneness and connection

Come vision with us!
NOTE ABOUT SAFETY: Vaccination and masks are required.

Email Laurie
to register — she'll send you a PayPal invoice you can pay with a credit or debit card. Let her know if you're joining the online version of the workshop.
"
Laurie Phillips is a muse for even the most recalcitrant visionary. Go. Do the Vision Card workshop now."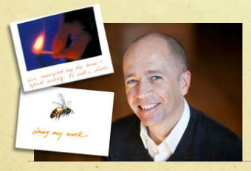 Lee's Vision Card Story

"Vision cards aren't magic, but they feel like it. For me, giving my vision physical form helped align my actions with my intentions. I was able to see my desired outcome — to write a book-length collection of poetry — as a series of small actions.
Instead of wishing for change, I started creating it in small ways that gained momentum over time: I established and maintained better writing habits, generated pages and pages of new material, won a fellowship, found studio space, got a few poems published, and have now completed a fifth draft of my manuscript. It isn't a published book yet, but I'm much closer to that possibility. In the meantime, I've architected my writing into my life."
Lee Colin Thomas is a poet, content strategist and information designer who lives in Minneapolis.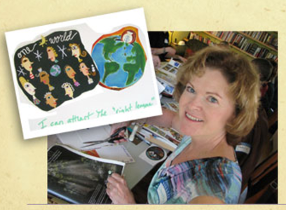 Dorothy's Vision Card Story

"When I did the Vision Card workshop with Mary and Laurie, I created a card about my coaching and leadership programs taking place in exceptional locations. What's happened since then is that I did indeed lead a session with executives at a fly-in wilderness camp in the Chilcotin Mountains in British Columbia. It was everything I envisioned and more. This experience also inspired me to run coaching programs at my cottage at Duck's Bay in northern Ontario, my favorite place in the world. Before using Vision Cards the possibility of leading retreats there hadn't occurred to me!"

Dorothy Greenaway
www.dorothygreenaway.com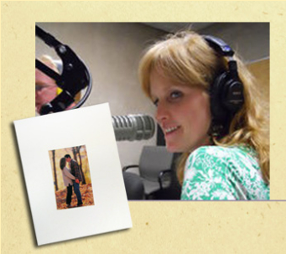 Karol's Vision Card Story

"For one of my cards I chose a picture of a man and a woman facing each other holding hands in the woods. I wanted to meet a great guy and have intimacy like this picture. At that time, I wasn't feeling very good about myself so the whole notion of meeting this guy didn't even seem possible.

About three weeks later, after meditating on my Vision Card every morning, I went up north for a girl's get-a-way. The first night there, David showed up as a guest of my friend's mom. We shared the same passions for acting and creativity; three nights of fireside chats started a wonderful relationship. We ended up getting married and now have a beautiful baby daughter.

Karol
© 2020 The Vision Cards workshop was co-created with Mary Cayan